My Dexta Restoration Story
Back when I was about ten years old, my folks and I used to sail the lakes of Friesland (in the north of Holland) on holidays. Not being much of a sailor, I got to know one of the local dairy farmers and decided to hang out with him instead. Being nine years older than me, he and I became friends. Back then (around '76), he and his father had three tractors: a little Ferguson (forgot which one), a Major and a Dexta. Soon, the Major and the Ferguson were sold and a 3-cylinder Fendt 103LS was bought brand-new. Now 20 years and 8000 hours old, this Fendt is still going strong. Anyway, my friend taught me how to drive a tractor, and I've made a lot of hours on the Dexta and the Fendt. The Dexta was my little buddy; I loved to work with it. Years later, the Dexta was coming apart at the seams and my friend decided to sell it. Well, I bought it (of course). For about two years, my father and I tried to make a decent tractor out of it, but it was our first project and we made lots of mistakes. We did learn a lot, though. When my parents sold the house and moved, I sold the Dexta.
About 8 years later, the itch became too much. My wife was away on a camp with her students (she's a high-school teacher, and so was I at the time) and I started hunting for a decent Dexta. I found one that was reasonably complete and more or less in working order, and bought it for f 800,= (about $400,- or £300,-) and drove it home. The image below was taken a week after I'd bought it: the headlamps have been fixed and various rusty places have undergone treatment. Note the exhaust pipe: sawed-off from a car!
My dad and I took up the restoration, and this time we did it (mostly) right. We got to know a very experienced Fordson mechanic (who knows the Dexta inside and out), and together we had a go at it. Over two years, we changed the engine seals, fixed the oil pump, replaced a piston, all the piston rings and all the bearings/liners of the engine.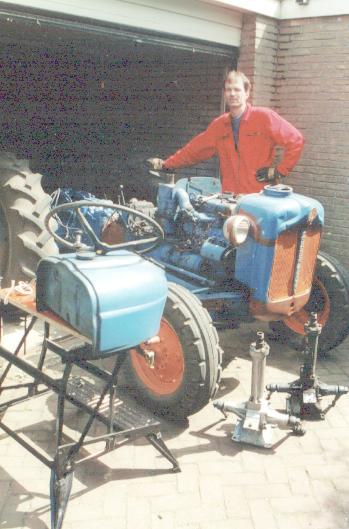 Work, work, work...
We refreshed all the oil, fixed the lights, sanded and painted the sheet-metal parts and the frame, changed all the coolant hoses, soldered the leaky radiator, changed rear tyres, etc etc. We decided to make a decent tractor out of it, technically 100%, but not a showroom-quality demo piece. It still does some work, you know, and that should be reflected in its looks. Recently, I drove it from Laren to Winsum (where my farming friend now lives), a distance of about 180 kilometers. Took me 9 hours, including an hour to fix a broken throttle pin! Upon arrival, I hooked up some machinery and headed for the meadows; we had a couple of acres of grass to harvest before sundown. The Dexta held up great; in fact it held up better than I did..... You want to see it? Click here.
After all these years, I am still in love with that little Dexta. However, if I ever spot a 4WD Roadless Dexta I'll buy it in a heartbeat!
Milonic DHTML Website Navigation Menu - Version 3.5.12
Written by Andy Woolley - Copyright 2003 (c) Milonic Solutions Limited. All Rights Reserved. Please visit http://www.milonic.co.uk/menu/ for more information.