Brian Dye's field memories Part 19: The Dexta Repatriation Story
Brian and Ann's Story
"Why don't I drive it back? I'm coming over in April" was the comment I put on the board. Oscar had posted that he wanted to sell his Dexta (a decision that he may come to regret) and Barry in Anglesey had said he wanted to buy it. The problem was that little stretch of waters between England and Holland, then the drive from the port to Anglesey.
Emiel managed to find a spare manifold for Henrietta so Ann and I made a spur of the moment decision to use the collection of it as an excuse to spend a long weekend in Holland in the spring. This time we would visit Zeeland, an area which we have never visited and also visit the Keukenhof Gardens to see the flowers. We also have some Fordson Major wheel centres to take to Henk who lives in Zeeland so it was all coming together nicely. We travelled a lot in the Netherlands over the years, from fast runs through it on my way backwards and forwards to Claas at Harsewinkel, and to the polders and Northern Holland as we worked with a large Grimme dealer on potato harvesters. We spent time in the south near the Belgium border on holiday and loved the country, people and the food. So all was set, the ferry booked, Emiel had the parts, then Oscar decided to sell the Dexta!!
The idea of driving it to the ferry at Hook van Holland with Ann providing escort with the Rover was soon discarded. Oscar said that the Dutch police would not like it too much if I were seen driving a tractor down the motorway between Amsterdam and the Hook. So we decided to see if we could hire a trailer. Anything to get the famous Dexta over here to a good home where she would be looked after and pampered! It just happens that I live opposite a large Ivor Williams trailer sales company run by a friend. Gerald has helped me out many times over the years with trailers and the like, so I walked over the road to find out whether he knew of anywhere that hired trailers for such a trip. Gerald took me around the back of his yard saying he had just what I needed, a 14' twin axle trailer equipped with ramps, spare wheel and a winch. We agreed a price for a few days hire, spoke to Oscar and Barry and the trip was on! We contacted the ferry company and arranged passage for the trailer and a few days later found ourselves heading for Holland.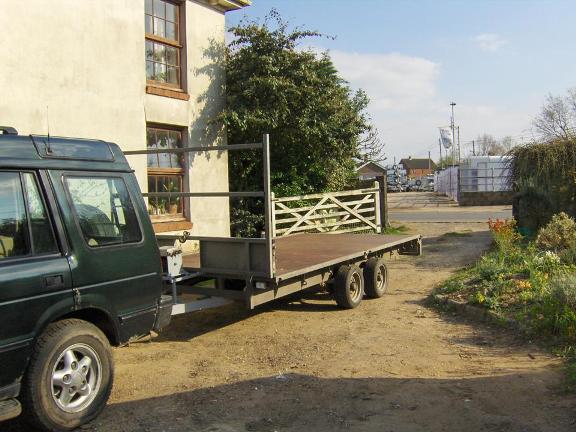 It was early on a Thursday morning that we set off from Scarning. It was quite dark at 4 am as we drove through the Norfolk countryside on our way to the ferry port at Harwich, some 80 miles away. Rover purred along with Gwyneth rattling behind. She towed like a dream. These Ivor William's trailers are really great! The sun came up over Suffolk as we approached the port and it was going to be a beautiful day. Soon we were drawing in to the loading lines for the ship amongst the other cars that were making the trip over.
Surprisingly we were not the first there. Although it was only six o' clock in the morning and the boat did not sail until ten-thirty, there were quite a few trucks and cars waiting to pass through customs. We grabbed a coffee and settled down with our books watching the port gradually come alive around us. Trains and forklifts moved purposefully around the ships in the port. From where we sat we could see many containers being loaded on the "Stena Britannica", the ferry that would take us over this time.
When we had crossed in September 2006 it had been on the High Speed Ferry but this had now been discontinued and we were back to a "luxury liner" type which was going to take 6 hours to get us across. That is no problem, as we love the crossing part of the trip as it is very relaxing and, after all, we were on holiday! Then customs opened and we moved through. Passports were checked and a very young customs lady approached us with a clipboard. "I just need to ask you if you are carrying anything for anyone?" "No." "Have you anything sharp like knives in your vehicle?" "Oops! I have all my tools which include Stanley Knives, screwdrivers, a picnic set, etc." "That's OK. Through you go!" The whole exercise seemed a bit pointless as we were carrying a veritable arsenal of "weapons" but I supposed we looked harmless. Anyway we were allowed on board with no further problems although they did load us last of all. Ann was getting quite worried as we were held on the dockside. After a long wait we were directed to deep in the inside of the ship and after seeing Rover and Gwyneth settled we made our way to the spacious lounge and the first of our holiday treats. Coffee and a piece of apple cake!!
The crossing was very smooth but the visibility was poor so we did not see any of the ships we passed. As we neared the Dutch coast the mist lifted and all to soon the skyline of the Hook came into view and we were heading down into the bowels of the ship to collect Rover and Gwyneth again. Just our luck! We were last to board so we were last to leave. So much for getting to the port early! Now we were held up in a line of cars waiting to get through Dutch customs. When eventually we got to the booth, one glance at our passports and we were through and on to the open road heading up towards Amsterdam. Ann navigated us through the towns around the port whilst I got myself acclimatised to driving on the wrong side of the road whilst pulling a trailer! Once on the motorway there was no problem and we cruised along at a steady 60mph eating up the miles to our turnoff.
We were heading for the town of Bussum for the night. We had booked a hotel there and were to meet Oscar at the hotel next morning. Then we will follow him to his home and meet the Dexta (and Wilma of course). By the time we reach Bussum it is early evening and we have been travelling since 4 am. We are both ready for a meal and bed but we have yet to find the hotel. It should be beside the station and we are driving parallel to the railway tracks so what could be easier. Even better! The hotel is marked on road signs! But we travel some miles without seeing it. We must have missed it! Then another large sign pointing to the left and we found ourselves in a massive car park with the hotel at the other end, right next to the station. I gave grateful thanks for the size of the park. Rover and Gwyneth are rather long and I was dreading having to park in a small space. Even then as I stopped in two car bays, Gwyneth protrudes into the roadway whilst Rover's bonnet overhang the other end. The roadways between the lines of cars are not very wide either. Could be a bit of a problem getting out in the morning. But we will worry about that then.
Into reception.
"We have a room booked for tonight".
"Sorry you are not booked in here."
Luckily Ann has taken the precaution of printing out the details of all our bookings from the Internet. It seems that the information had not got as far as the hotel. Sometimes I wonder about modern technology! A room is found and all is well. We get washed and go to the dining room. A great meal washed down by an excellent Irish Coffee! And lots of goodies in our room too!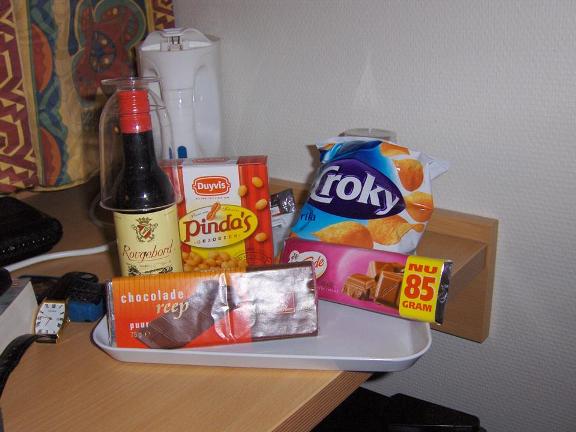 Next morning we are down to breakfast early then we go for a walk around the area. We marvel at the trains. These are something we don't see in Norfolk. Most of our railways were closed down in the 1960's so we have to rely on cars to get around. Its about 15 miles in one direction and 25 in another to get anywhere near a station. OK so we have one that runs restored and historic trains at weekends but that is no help if you need to use public transport to get around the country.
We have arranged to meet Oscar at around 9.00 am so its back to the room, repack our cases and get them back out to Rover. As we pass through the bar Ann says: "Good morning, Oscar!" I have just walked past him as he sat at the bar and not recognised him! I apologise and we shake hands. Not recognising people is a problem I have had for many years. As I have said in other "Memories", working for many years with the Training Groups throughout eastern England I met hundreds of people. I used to see around 600 combines a year on our troubleshooting exercises. I could remember all about the combines when we got onto the farms and could give you chapter and verse on their problems over the years but I could never remember the drivers' face or name. Strange.
We go to the car park and load our cases into the car. Oscar points out that I had left my camera sitting on the drawbar. Its been there since early morning! My memory is really going as I get older! I lost my last camera and nearly did the same with this one. Thanks Oscar! I manoeuvre carefully out of the parking space. Luckily some one has been kind and parked well clear of Rover giving me just enough room to get the trailer out. We set of for Oscar's house. Its not too far, just a quick burst down the motorway and we are there! Motorways are another thing we don't have in Norfolk! We stop in a beautiful area of houses. It really lowers the tone of the area when an old Discovery and trailer draw up in this street. So we quickly hide it round near Oscar's garage. He did not tell me it was a narrow drive between two high hedges with a right angle turn at the bottom to get round. All in reverse!! Still, I have been practising. Oscar looks quite amazed that I managed it with little shunting. Did not tell him it was more luck than skill! It is nice that Rover has a low set of gears. Just right for this sort of work.
Oscar introduces me to Ol' Blue. She is a lovely little thing and runs like a clock. What can I find wrong with her that would make Barry decide not to buy her and let me have her instead....? I decide that it would be wrong to do that! Anyway my heart is given to another Dexta. Still trying to work out haw I can get Mark to part with the Petrol Dexta for £25.00! This repatriation job is only a practise for collecting that one!!
We take the Dexta for a spin around the area. Oscar really does live in a beautiful part. Near to all forms of transport and yet quiet and peaceful with large open areas. We return to the garage and load the Dexta onto Gwyneth making sure it is well strapped down. Next we hit another flaw in our plan! We had said we would leave the trailer with the Dexta on it in Oscar's garage whilst Ann and I went to collect the parts from Emiel, deliver the wheel discs to Henk and have some time in Zeeland. We would then spend Monday travelling over the Islands of Zeeland to Rotterdam, up the motorway to the Keukenhof on to Oscars again to pick up the tractor and trailer before heading back down the motorway to get the ferry for the night crossing. That was the plan at least! We then found that the trailer and tractor was too big to get into the garage! So it was decided to leave it out by the roadside over the weekend. With the trailer locked it should be safe and Oscar noted that it was not an easy thing to sell in Holland if someone stole it. Something to do with the law saying you should not tow something that big behind a car!
| | |
| --- | --- |
| | |
| | Is it me or is Oscar's smile a bit forced...? |
So there she was all loaded and strapped down ready for the return trip. Hope the neighbours would not mind.... Still it makes a beautiful picture! All that's left is the "ceremonial" handing over of the key into my safe keeping for Barry.
We then adjourned to the house for tea. I am sure Oscar and Wilma won't mind me saying but, in England, it is known that you never drink tea when travelling abroad. Only the English know how to make it, is the story. Let me tell you that is a myth! Ann and I were welcomed into people's homes in Holland and we had some wonderful cups of tea! Certainly Dutch tea is to our taste!
All to soon it was time for Oscar to go back to work and for us to drive down to meet Emiel, then on to our hotel for the night at Hertogen Bosch. We arranged that we would spend the afternoon in the National Park that was on our way and that was where we ate our lunch. We drove deep into the woods to the visitors centre and spent time looking round the exhibits. The area is very similar to our own Breckland here in Norfolk. No, we did not try out one of the many hundred of cycles that are free to let you ride around the park. I am afraid that our cycling days are over! We can manage to walk a fair distance but neither of us has been on a cycle for nearly 30 years although, when younger, we both travelled many miles on a bike.
Our next stop was Emiel and his father's farm near Arnhem. As we got closer, in the early evening, my navigator said:
"Have you got the address?"
"Its in the folder with the other papers," I reply. "I printed it off from Emiel's e-mail before we left".
"It's not here" says Ann.
Sure enough we have another e-mail from Emiel but the one with the address has been left in the printer. This mail also included his telephone number as well. Its going to be really interesting finding him when all we are certain of is his Christian name! Luckily I had printed a Multimap with the area of his postcode on it and Ann noticed that Emiel's e-mail gave his surname so we were able to locate the farm fairly easily.
Once again we received a very warm welcome from Emiel and his father. We also got a tour round their impressive collection of Fords and Ford related products. Of course we also looked around the Lanz Bulldog they are restoring and the Claes combine. When we arrived Emiel said he could only spare 10 minutes, as he was due out to a function that evening. Hope they did not mind you being two hours late Emiel! We certainly spent an enjoyable time with you both. Then with the parts loaded we set off for our hotel.
The next day, Saturday, dawned bright and sunny as we drove to Zeeland. We were staying at the Golden Tulip Hotel, right on the sea front at Vlissingen and as we drove down we were feeling more and more relaxed. We arrived at the hotel, and found it really is nearly on the beach. There are only sand dunes between it and the sea and in the gorgeous weather we were getting it was the ideal place to be.
We arrived just after 10 am, just in time for coffee and a another piece of apple cake!! Out on the hotel terrace in the sunshine. After that we thought it might be a good idea if we took a stroll to burn off some of the excess weight we gained. We climbed the dunes and walked along the tops with the land on one side and the sea on the other.
| | |
| --- | --- |
| | |
| A view of the hotel from the dunes. | |
It was a great feeling to walk along the tops and again a great place to be. We were lucky to get a room at the hotel, as it is very popular. We had arranged to meet Henk in the afternoon. His wife, Janneke suggested he take us on a boat trip through Middleburgh, an old town in Zeeland that Ann wanted to see. It was great to have Henk as our guide through the old parts of the town and round the surrounding countryside. It is similar but so different to our part of England if that makes sense. To sail on the canal and see all the store houses of what we call The East India Company and realise how our two countries were linked and also warred, over world trade really brings history home to you. Janneke, it was an inspired suggestion and we thank you for it.
A great afternoon in great company!
On Sunday we decided to take a trip to the picturesque town of Veere in the morning. The afternoon would be spent with Henk at his friend Dies who had a large collection of old tractors. Veere certainly is a beautiful place but it proved to be the only blemish on a wonderful trip. We picked up a parking ticket! Why, we don't know as we were parked perfectly legally with a ticket on display. If you look closely at the following picture you can even see Ann at the machine getting our ticket! The case still rumbles on and the council has just asked us to return the originals to them for their investigation. Think the traffic wardens guide dog missed the ticket on the windscreen!!
That afternoon we drove to Henk's house to meet Janneke and his family then, after making sure Rover was legally parked in the station yard, we set of to visit Dies and look at a few of his old tractors. Janneke reminded Henk that he had booked a table for our evening meal in a restaurant in Vlissingen and not to be late
What a collection Dies has got! Everything from Fords and Fordsons, Majors and Super Majors, Allis and Mann even a Coop and a County was hiding in the sheds. We sat and enjoyed a beer, looking at books on crawler tractors. We talked tractors non-stop. This was pretty good going as Dies has no English, I have no Dutch, Henk had to interpret but soon the language of old tractors took over and we found we could all understand each other. We had a fantastic time! We left Ann reading her book in the sunshine in Dies's garden whilst Henk and I went with Dies to see his Field Marshall. As we admired it I happened to mention that I had driven one ploughing and cultivating nearly 50 years ago. Dies asked if I would like to take it for a drive. It had one flat rear tyre due to a slow puncture but that could soon be inflated for a drive around the block. The only proviso was that I would have to help Dies crank it!
To start a Marshall one first lights an igniter, screw it into the cylinder head in a special tube, turn the huge flywheel until an arrow lines up with a mark on the oil filler, then pull the decompressor over into a track on the flywheel. This allows four turns of the engine for you to get up a turn of speed to pull her over compression when the decompressor falls off the end of the track. If all is well she starts with a mighty Thump - Thump - Thump. If you haven't gone quite fast enough with the crank or slowed down at the last minute, everything stops dead! No second chance it is just like hitting a brick wall. Your arms seem to get about a foot longer! This is what happened to Dies and myself! Dies goes back to the front of the tractor and takes the igniter tube out again. The glowing insert had died. Dies fits another and we repeat the process. This time, with a cloud of smoke, the Marshall fires up. Dies drives her out of the shed and gets an airline to inflate the tyre. Whilst he does this she sits thumping in the sunlight. This tractor is a Series 3. The engine turns the opposite way to the Series 1 I used to drive, and she is a lot smoother running. The Series 1 used to shake like mad with the surge of the huge piston. We are talking 6.5" bore with a 9" stroke generating 40hp. All this at about 500 rpm. If you got them up to 750 rpm, maximum revs, they were really thumping. You could hear a Marshall pulling hard for miles!!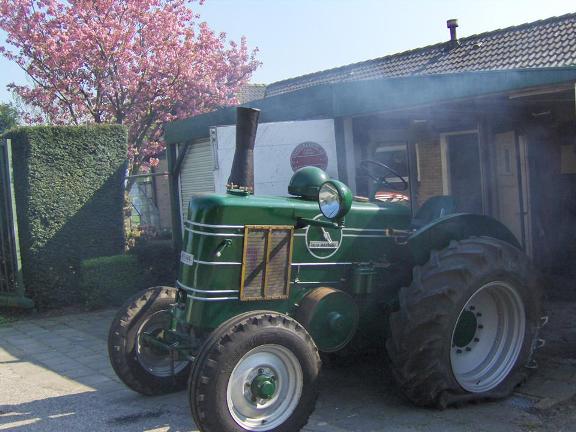 With the tire inflated I climb into the driver's seat. Dies climbs onto the drawbar. It all comes back to me in a flash. The gear selection, totally different to a modern tractor. Neutral is fore and aft not from side to side. Then you push the stick away from you or pull it towards you then it hooks into gear. So to take it out of gear, you pull the stick back, push (or pull) it over to the middle, then slide it back and push or pull it into the next set of gears. Then there is the High/Low range change. It is a bit complicated but sitting on the seat, its just as if it was yesterday I was driving one of these instead of nearly fifty years ago. We select a gear and with a little throttle and the shriek of the clutch, off we go. All Marshall clutches shriek when you let them up, its like the exhaust note, part of the beast. "He's done this before," Dies says to Henk, in Dutch, as we chug off down the road.

The little run is far to short, as we travel around the circular roadway, I'm back in my young days, a mind full of thoughts and memories brought back by this old beast.

Back in the yard again and it is time to look around the other treasures hidden away. We view Majors and Super Majors, ploughs, cultivators, so many different tractors and a beautiful Lanz Road Bulldog I am too busy talking to get many photographs so I let Henk take the pictures. One I did get, though, was of this little Allis Chalmers "G". This is quite a rare tractor this side of the pond! We are sitting in the garden, still talking tractors, when Janneke rings. We should have been at the restaurant that Henk had booked for our evening meal!! Time has flown, the weather has been perfect and the two hours we had allowed for this visit has become four. We say our thanks to Dies and his wife, promise to look into a couple of things for him and make our way back to Henks home. No time to change, the table booking has been changed to later but there is still only a short time to get to the city. No time for me to go and change my shirt, which seems to have got itself smudged with oil. Oh well, perhaps the others in the restaurant will think it is the latest fashion.

The next day, Monday, is foggy as we take our leave of the hotel and head off for the bridges that join the Islands of Zeeland. It's a great pity as our views of the sea as we cross the bridges are restricted, but we will be back to see it in better weather. We marvel at what we can see. Norfolk is suffering from coastal erosion. Large parts are lost every year to the sea and yet here in Holland is an example of land being reclaimed from the same sea. I wish our politicians would learn from this great engineering work before all is lost instead of blithely mouthing platitudes about "managed retreat". A small nudge occurred a few days ago when planning permission for a new development was refused because it would be in "an area likely to flood". When you start hitting the big developers in the pocket some changes might take place. We can only hope.

Henk advised that we take the ferry across the Maas. Ann and I will go miles out of our way to travel by a ferry, but this one is on our route and is quite spectacular. This one mixes with the big boys!

After our ferry trip we skirt around Rotterdam and take the motorway towards Amsterdam. We have arranged to pick Gwyneth and the Dexta up at between three and four o'clock at Oscars house. He will not be there (work, work, work) but Wilma will be. But first we are going to see the Keukenhof Gardens.

We grow tulips on our land for sale as cut flowers, but we could not miss the chance to visit this garden in the early spring. The fog has cleared as the morning draws on and now it is hot and sunny. Just the day for a visit here.

The car park is filling rapidly as we arrive. We have been amused by visitors in the fields of flowers frantically taking pictures of them as the machines that cut the heads off approach. They just seemed to stop on the road, dive out of their cars with camera in hand, leap the fence or dyke and snap away, oblivious to the approaching tractor and cutter. Once through the gate, the size and the beauty of this place becomes apparent. I join the throngs of camera wielding tourists from all over the world. Its nearly as good as the tractors we have seen on this trip!!

Its now lunchtime and we have not stopped for a coffee all morning so we visit the cafeteria for one. Like the gardens this too holds a wide range of delights including my favourite....
| | |
| --- | --- |
| | |
| Now you see it.... | Now you don't! |
After coffee and cake its back on the motorway to Oscar's. This break is drawing to a close and soon we will have to be travelling back the opposite way with the Dexta in tow, heading for the ferry home. Traffic on this road is going to get heavy between the hours of five and six in the early evening, as commuters leave the city for their homes and there is nothing worse that stop-start motoring to over heat the engine on a hot day. We also do not want to leave things too late to get to the boat, we have to be there at eight o'clock to start boarding.
We get to Oscars around three-o-clock. Wilma is waiting with a cooling fruit juice, Gwyneth and her load are still outside. We load her travelling luggage, couple up and say our farewells. Soon we are back on the motorway heading for the Hook. Traffic is heavy but we have left early enough to miss the worst of it in the Amsterdam area. Our timing is just right and we will also miss the rush hour around Den Hague too. We stop and check the straps a couple of times before heading down the busiest road. Wouldn't want to loose her, Barry would be upset. Rover cruises happily with the load at between fifty five and sixty mph. Engine temperature remains constant and fuel gauge doesn't drop too fast, we are in great shape. We negotiate all the smaller roads leading to the port without a problem. Soon we are at the gates. They are locked! We have had such a good run down we have arrived far too early. This is difficult, as we cannot get into the parking area, Luckily there is a station close at hand so we draw into their car park and find a spot that we can fit into.
| | |
| --- | --- |
| | |
| | Dutch fish and chips outside in the evening sunshine. |
Don't want to upset anymore parking attendants. We check the strapping again and give everything a walk round check. I am very pleased with the way Rover has coped with the load, after all he is getting on in years and does not have an easy life always rushing around the countryside. This is his second trip to Holland in six months and he has had a long trip to Devon in between. We adjourn to the little café at the station. Although we had the coffee and cake in the Keukenhof, we had not had anything to eat since breakfast this morning. Although we both enjoy our food, on holiday, we have a breakfast and an evening meal missing a meal at mid day. It works well for us. It is now around six o' clock so we decide to have a final "frites mit mayonnaise" in this little café which is serving lovely fresh caught fish. What could be better for our final meal in Holland on this trip? It was great.
As we placed our order, the gates of the port car park are now opened so I move Rover, Gwyneth and the Dexta into the boarding line and go back to my meal. We are totally relaxed and looking forward to the boat trip home. It is a job well done. But the excitement is not yet over. Boarding time comes and we start moving onto the ship. Just in front of us is a big Japanese 4WD with a tri-axle trailer, stacked high with heavy metal frames. As we enter the car deck we are directed up a steep metal ramp that takes us to a parking area over the container trucks that will share our crossing. I engage low box and start the climb up the wet metal ramp. A heated argument breaks out among the crew and they frantically wave us to a halt just as we reach the level upper deck. Two members nearly come to blows and one is shouting that he will go to the captain if we are allowed onto that deck level. Something about weight. Another crewman comes over to us and says "How heavy are you. What is your gross weight"?
"I'm not exactly sure of the total but if you really need to know exactly I have the details here."
"Are you over seven tonnes"?
"No."
The argument between the other supervisors remains heated with threats flying around. All this is going on whilst Ann and I are holding on this steep slope sitting in seats that lean back at an angle like the space shuttle on the launch pad. The cause of the argument seems to be that the Dexta, in the eyes of one crew supervisor is too heavy for the deck and is liable to put the whole ship at risk! Rovers' hand brake creaks as the load and angle try to drag us backwards.
The crewman comes over again. "Could you reverse it and go down to the lower level, please?" Thanking my lucky stars that I had the sense to engage low box before attempting the ramp and with Ann clutching the hand holds with whitened knuckles, I ease backwards down the ramp and am passing the cars waiting to come up behind me. The crew let the load of steel girders in front of us onto that deck without question and it must have been twice the weight of the Dexta. Some people are funny.
The rest of the trip across was uneventful. We were let off the ship in England at six in the morning and drove onto the dock towards customs. As expected we were directed to the red channel where an efficient looking man with a clipboard approached my window.
"Have you been given anything to transport or do you have anything that does not belong to you or you did not pack, sir?" he asked.
"Yes, that tractor on the back. I'm bringing it home for a friend."
"I see. And where do you come from, sir?"
"East Dereham in Norfolk."
"Blasted Farming county!! You lot take your tractors everywhere! Through you go, sir!"
So we entered England and headed towards Dereham. It was a quiet trip home, once more driving on the left side of the road. Here Rover had hills to cope with but he purred along nicely and before long we were on the outskirts of Scarning.
"We will unload her on the field rather than have to reverse into our yard" I said to Ann. We live on a busy road and at that time in the morning it could be a little hairy reversing into our yard in traffic. We pulled into the track leading to our meadow and it was here that the Dexta touched English soil for the first time in forty-seven years to be greeted by Nuffy.
Here she will stay, in the warm spring sunshine until she can be brought to the yard for a small operation on her lift and then resume her journey to the Isle of Anglesey.
Milonic DHTML Website Navigation Menu - Version 3.5.12
Written by Andy Woolley - Copyright 2003 (c) Milonic Solutions Limited. All Rights Reserved.
Please visit http://www.milonic.co.uk/menu/ for more information.